◎About YOKOHAMA YUMEZA by actress MICHIKO GODAI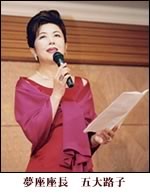 Yokohama Yumeza is a group organized by the actress Michiko Godai and citizens of the city of Yokohama. The group's main goal is to deliver high quality theatrical performance from Yokohama.
Yokohama Yumeza was born in 1999, from an executive committee composed by volunteers who were eager to create what they want with their own hands, and to send theatrical art from Yokohama to the world as a local cultural activity.
Since its inaugurating performance in 1999, members of the Yokohama Yumeza have put together their hands-on efforts from seeking sponsorships to coordinating every detail of the performances in order to deliver and perform "made in Yokohama" plays.
With help from the people in Yokohama, both individuals and companies, together with cooperation from the media, Yokohama Yumeza will continue its efforts to contribute to intergeneration and interregional communication, and to expand cultural and artistic accomplishments, through its theatrical activities.