Yokohama Yumeza CM (J:COM produce)
◎ Yokohama Yumeza's Information
2015-04-25&26 Yokohama Rosa ーStories from the War Michiko Godai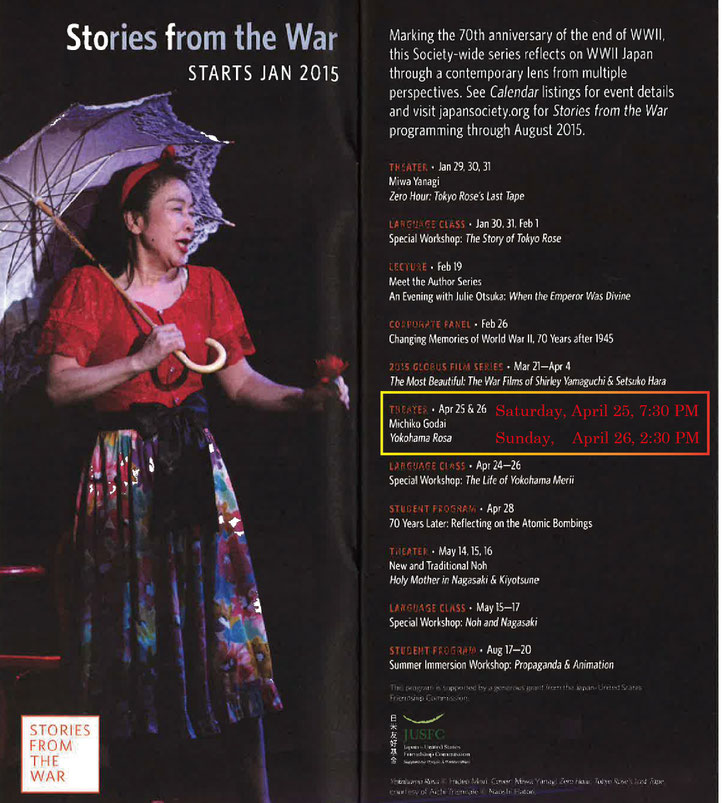 Storie form the War Michiko Godai 「Yokohama Rosa」
Performed in Japanese with English subtitles.
【Schedulel】
Saturday, April 25, 7:30 PM
Sunday,   April 26, 2:30 PM
Ticket:$35 / $28(Japan Society member) 
Location :333 East 47th Street New York, NY 10017
For more detail: Japan Society HP
2014-08-14〜18 Yokohama Rosa in Yokohama Red Brick Warehouse
『Yokohama Rosa-Stories from the War Michiko Godai 2014』held in Yokohama Red Brick Warehouse from Aug 14th to18th. 
We appreciate all the support we received from everyone. Thank you for coming. Hope to see you again!
Message from Godai Michiko(in japanese):
 私がこの芝居のモデルとなった白塗りの老娼婦メリーさんと出会ったのは、23年前の5月の横浜みなと祭の日でした・・・ 
2013-03-15 Talk Show at Nippon Club in New York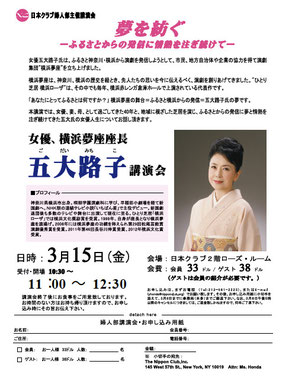 Spin Dreams
Talk show by Michiko Godai will be held at New York・Nippon CLUB on Friday, March 15.
Adress: 145 West 57th St., New York, NY 10019
Application form can be downloaded by PDF file below.
2012-09-12 40th Anniversary of Michiko Godai
★ Yokohama City Award for Cultural Merit